Da Capo Master Class, Rachel Barton Pine, violin
February 13, 2021 @ 9:30 am

-

11:30 am

EST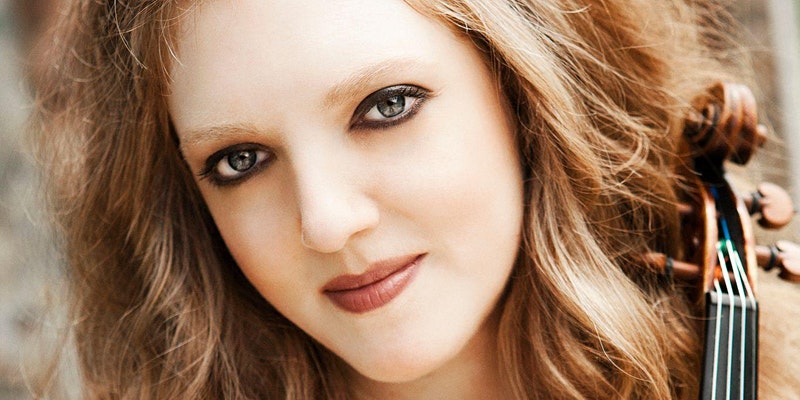 Event Navigation
Watch and listen as acclaimed violinist Rachel Barton Pine works with four outstanding Suzuki Music Schools students.
In both art and life, violinist Rachel Barton Pine has an extraordinary ability to connect with people. Celebrated as a leading interpreter of great classic and contemporary works, her performances combine her innate gift for emotional communication and her scholarly fascination with historical research. She plays with passion and conviction, thrilling audiences worldwide with her dazzling technique, lustrous tone, and infectious joy in music-making.
Her new recording of the Dvořák and Khachaturian Violin Concertos (Avie, November, 2019) with the Royal Scottish National Orchestra and conductor Teddy Abrams highlights the influence of each composer's local ethnic music – Dvořák by Czech folk music and Khachaturian by Armenian folk and other music of the Caucasus. Pine has appeared as a soloist with many prestigious ensembles including the Atlanta, Baltimore, Chicago, Dallas, Iceland, Montreal, New Zealand, San Diego, St. Louis and Vienna Symphonies; the Buffalo, Calgary, Rochester and Royal Philharmonics; the Louisville and Philadelphia Orchestras, the Royal Scottish Philharmonic, the Belgian and Russian National Orchestras; and the Israel, Mozarteum and Scottish Chamber Orchestras. She has worked with many renowned conductors including Marin Alsop, Zubin Mehta, Neeme Järvi, Placido Domingo, Semyon Bychkov, John Nelson, and Erich Leinsdorf, and with prestigious collaborators including Daniel Barenboim, Christoph Eschenbach, and William Warfield. Among numerous contemporary composers with whom she has collaborated are David Chesky, Billy Childs, John Corigliano, Joe Deninzon, Mohammed Fairouz, Luis Jorge González, Earl Maneein, Daniel Bernard Roumain, José Serebrier, and Augusta Read Thomas. She has premiered concertos written for her by Fairouz, Maneein, and the Canadian composer Marcus Goddard, and performed the Panamanian premiere of Roque Cordero's 1962 Violin Concerto. She also gave the world premiere of the last movement of Samuel Barber's long-lost 1928 Violin Sonata, as well as of a sonata fragment by Beethoven in 2005. In addition to her career as a violin soloist, Pine is an avid performer of baroque, renaissance, and medieval music. Her Vivaldi: The Complete Viola d'amore Concertos, recorded with Ars Antigua (Cedille), appears in the 2019 Oscar-winning film "The Favourite." Pine performs with the period instrument ensemble Trio Settecento and has served on the Board of Directors of Early Music America.
Pine writes her own cadenzas and has performed many of her own arrangements as encores. With Carl Fischer's publication of "The Rachel Barton Pine Collection," Pine became the only living artist and first woman in Carl Fischer's Masters Collection series. Her edition of Bach's Six Sonatas and Partitas was published in 2017. She is also the music advisor and editor of "Maud Powell Favorites," the only published compilation of Powell's transcriptions, cadenza for the Brahms Violin Concerto, and the music dedicated to, commissioned by, or closely associated with Powell.
Pine is an active philanthropist, leading the Rachel Barton Pine Foundation since 2001. This past season, the RBP Foundation received international press with the release of "Music by Black Composers, Violin Volume I," the first in a series of pedagogical books of sheet music exclusively by Black classical composers, with additional orchestral instruments to be covered in future volumes. Early in her career, Pine noted that young people learning classical music seldom have the opportunity to study and perform music written by Black composers. Over the past 15 years, the RBP Foundation's Music by Black Composers initiative has collected more than 900 works by more than 350 Black composers from the 18th-21st Centuries, representing North and South America, the Caribbean, Europe, Africa, and Asia. Also published are "The Rachel Barton Pine Foundation Coloring Book of Black Composers" and an illustrated timeline poster of 300+ Black classical composers from around the world, and many additional resources on MBC's website. Coinciding with these publications, Pine released Blues Dialogues: Violin Works by Black Composers (Cedille Records), featuring classical works with a very strong blues flavor written by 20th and 21st Century composers of African descent.
Pine has a prolific discography, with 38 albums on labels including Avie, Cedille, Warner Classics, and Dorian. Her recordings with some of the world's most prestigious ensembles and conductors include Brahms & Joachim Violin Concertos (Carlos Kalmar and the Chicago Symphony Orchestra) and Elgar & Bruch Violin Concertos (Andrew Litton and the BBC Symphony Orchestra), which pays homage to Sir Neville Marriner. Pine and Sir Neville's Mozart: Complete Violin Concertos with the Academy of St Martin in the Fields charted at number three on the classical charts. Pine's Testament: Complete Sonatas and Partitas for Solo Violin by Johann Sebastian Bach and Violin Lullabies debuted at number one on the classical chart and her Bel Canto Paganini hit number three.
Pine holds prizes from several of the world's leading competitions, including a gold medal at the 1992 J.S. Bach International Violin Competition in Leipzig, Germany. She performs on the "ex-Bazzini, ex-Soldat" Joseph Guarnerius del Gesu (Cremona, 1742), on lifetime loan from her patron.
Related Events